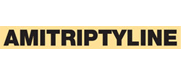 Amitriptyline
Amitriptyline (generic) is a tricyclic antidepressant used for treating depression. It restores the balance of the certain chemicals in the brain that are responsible for mood. The medication is available in the form of film coated pills.

Amitriptyline is approved for use in people starting from 12 years of age. The patient's condition should be monitored by a doctor to control suicidal thoughts. It may take up to a month for the symptoms to improve. The dosage can be determined and adjusted only by a professional therapist based on the patient's condition. Withdrawal has to be gradual for safety purposes.

Amitriptyline is also available in the market as Sarotex, Laroxyl, Elavil, Tryptizol.

Amitriptyline® is manufactured by Astra-Zeneca Pharmaceuticals.