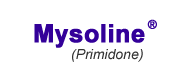 Mysoline (Generic)
Mysoline (generic) belongs to the group of anticonvulsant and anti-epileptic medical products of the barbiturate class. Its working agents influence the nervous system by decreasing nerve impulses, and that helps to reduce nerve seizures. Medical uses include treatment of epilepsy, essential tremor, long QT syndrome, psychiatric disorders and trigeminal neuralgia. Mysoline can cause listlessness, visual disturbances and headache.

At the market, generic Mysoline is also sold as Primidone.

Mysoline® is a trademark belonging to Valeant Pharmaceuticals.