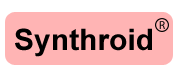 Synthroid (Generic)
Synthroid (levothyroxine) is a pharmaceutical that restores deficiency of thyroid hormones. If the thyroid fails to deliver a sufficient amount of hormones to regulate the vital functions of the body, Synthroid is prescribed. Synthroid stimulates metabolism, growth and development of body's tissues, function of brain and cardiovascular system. It is an inexpensive medication recognized throughout the world.

Also known under the following names: Eltroxin, Levothroid, Levothyroxine, Levoxyl.

*Synthroid is product of Abbott Laboratories.