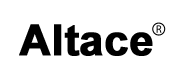 Altace (Generic)
Altace (generic) has ramipril as an active ingredient. It is used for treatment of hypertension (high blood pressure), congestive heart failure, as well as for improving survival after heart attacks and some other purposes. Generic Ramipril is an ACE inhibitor and works by preventing the conversion of angiotensin chemical into a substance increasing water and salt retention. It also improves blood circulation in the body.

Generic Altace comes in the form of 1.5/2.5/5/10 mg pills for oral administration. The dosage varies depending on the disease, health condition, and other medications used simultaneously.

Generic Altace is also available in the market as: Ramipril, Acovil, Tritace, ect.

The manufacturer of Altace® is King Pharmaceuticals.