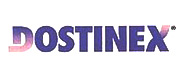 Dostinex (Generic)
Generic Dostinex (cabergoline) is a medication used to suppress lactation by reducing the level of a certain hormone. Dostinex decreases the concentration of prolactin in blood plasma. It helps to prevent lactation after childbirth and suppress already established postnatal lactation. It is used to treat disorders related to increased levels of prolactin, iparticularly amenorrhea, galactorrhea, oligomenorrhoea and anovulation.

Generic Dostinex is also sold as Cabergoline.

*Dostinex is a product of Cobalt Laboratories Inc.