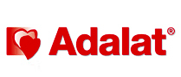 Adalat (Generic)
Adalat (Generic), a drug from a group of calcium channel blockers, contains nifedipine as an active ingredient. It is used for treating high blood pressure (hypertension) and chest pain (angina), as well as for other purposes. It works by relaxing the muscles of the heart and blood vessels.

Generic Adalat may be prescribed alone or in combination with other antihypertensive medications. It may come in the form of tablets (including the extended release form) for oral administration and is to be taken on a daily basis. Please get familiar with contraindications and side effects before using generic Adalat.

Generic Adalat is also available in the marketed as Nifedipine, Adapress, Procardia, Adapine.

The manufacturer of Adalat® is Bayer Pharma AG.