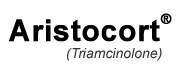 Aristocort (Generic)
Aristocort (generic) contains triamcinolone diacetate as an active ingredient. This adrenocortical steroid effectively relieves inflammation and improves the immune system's functioning. The indications to use include severe allergies, dermatologic diseases, endocrine disorders, gastrointestinal disease (ulcerative colitis, regional enteritis), hematologic disorders, tuberculous meningitis, leukemias and lymphomas, cerebral edema, ophthalmic diseases, respiratory diseases, rheumatic disorders, and renal diseases.

The drug is produced in the form of injectable suspension for intramuscular use.

Generic Aristocort is also available in the market as Triamcinolone.

The manufacturer of Aristocort® is Astellas Pharmacuticals.