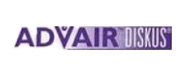 Advair Diskus (Generic)
Advair Diskus (Generic) is a combination medication with fluticasone and salmeterol as active ingredients. Fluticasone is a steroid drug preventing the release of substances causing inflammation, while salmeterol is a bronchodilator that relaxes muscles in the airways, thus improving breathing.

Generic Advair Diskus is used for preventing asthma attacks and flare-ups of chronic obstructive pulmonary disease associated with chronic emphysema and/or bronchitis. Asthma implies short-term treatment; COPD implies long-term treatment.

The medication is approved for adults and children from 4 years of age. .

Generic Advair Diskus is also available in the market as fluticasone and salmeterol.

The manufacturer of Advair Diskus® is GlaxoSmithKline.