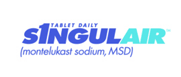 Singulair (Generic)
Singulair (generic) is also known as Montelukast sodium. Singulair beats a number of asthma and rhinitis symptoms caused by seasonal allergic reactions. It is also helpful against hay fever and bronchospasms. As a leukotriene receptor antagonist, it eliminates multiple allergy symptoms. Singulair can be prescribed for patients of all ages. The medication should be taken regularly once a day.

Singulair can also be found on the market as Montelukast and Montel.

*Singulair® is a registered trademark of Merck & Co.