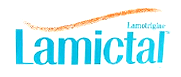 Lamictal (Generic)
Generic Lamictal is an often used medication belonging to the group of anticonvulsants. It is primarily prescribed to people with epilepsy in its severe form, known as Lennox-Gastaut syndrome, as a means to control partial seizures. It is also used as a part of a treatment of a convulsive disorder of obscure etiology in adults and children. One more case of use is easing symptoms of depressive episodes in people suffering from bipolar disorder.

Lamictal may be marketed under the names: Labileno, Lamotrigine, Lamictin, Lamogine.

Lamictal® is a trademark owned by GlaxoSmithKline.