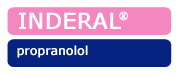 Inderal (Generic)
Generic Inderal is an antianginal, hypotensive, and antiarrhythmic drug with propranolol as an active ingredient. It is able to slow down the heart and effectively lower blood pressure, thus reducing the load on the heart. Inderal is one of the most used medications of this kind, and it has proven effective in the treatment of essential and renovascular hypertension, cardiac angina, anisorhythmia, blind headache, anxiety, and other conditions.

Generic Inderal is also marketed as: Deralin, Anaprilin, Obsidan, Propranolol.

Inderal® is manufactured by Wyeth-Ayerst Laboratories.