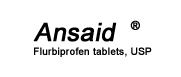 Ansaid (Generic)
Ansaid (Flurbiprofen) is a non-steroid drug with anti-inflammatory action also known as NSAID. Flurbiprofen is taken to reduce inflammation and pain through decreasing the levels of responsible hormones. It is used as an effective pain medication, which reduces fever and inflammatory processes. Flurbiprofen is commonly prescribed for arthritis and diseases with pronounced pain syndrome: bursitis, migraine, radiculitis.

Ansaid is also sold as: Antadys, Cebutid, Flurbiprofen, Flurofen, Froben.

*Ansaid is a product of Pfizer.