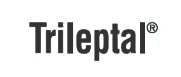 Trileptal (Generic)
Generic Trileptal is an antiepileptic medication and an anticonvulsant. It is effective for treating some types of epileptic seizures, such as partial, generalized and Jacksonian seizures. The drug is used as a monotherapy and a part of the combination therapy for adults and children. Besides, Trileptal has a normothymic effect, i.e. it eliminates mood swings and prevents depression.

Trileptal is also sold as Oxcarbazepine.

The company manufacturing this best-selling anti-seizure drug is Novartis Pharmaceuticals.