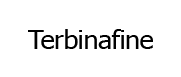 Terbinafine
Terbinafine is an orally administered antifungal drug to kill fungi of the dermatophyte class. Terbinafine is not only eliminates fungus, but also prevents its growth. Providing the same effectiveness, it is a cost-effective alternative to the brand medication Lamisil. Terbinafine first appeared in 1991 and now it is included to the List of Essential Medicines of WHO.

Generic names: Lamisil, Terbisil, Zabel, Triabin, Sebifin, ad Terbinaforce.

*Lamisil® is a FDA approved trademark in the US.