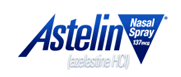 Astelin (Generic)
Astelin (generic), with azelastine hydrochloride as an active component, is an antihistamine drug. It is used for symptomatic treatment of seasonal and year-round allergies (seasonal allergic rhinitis, vasomotor rhinitis) in adults and children from a certain age. It reduces activity of the natural histamine – a chemical that leads to such symptoms as runny/stuffy nose, itching, sneezing, watery eyes. The symptoms are thus relieved.

Generic Astelin comes in the form of 30 ml nasal spray solution that is usually prescribed for intranasal use on a daily basis, once or twice a day. The medicine is steroid-free.

Generic Astelin is also available in the market as Azelastine.

The manufacturer of Astelin® is Meda Pharmaceuticals Inc.