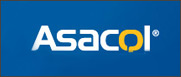 Asacol (Generic)
Mesalamine, an active ingredient of Asacol, is a drug used for treating ulcerative colitis of mild-to-moderate activity in adults and children who are 5 or more years old, as well as for maintaining remission of ulcerative colitis. The drug works by affecting a substance that causes inflammation, damage of tissue, diarrhea, though the exact mechanism of action is unknown.

Generic Asacol is usually available in the form of delayed-release 400 mg tablets. The tabs can be taken with or without food, with a glass of water. Generic version of the medication may be also marketed as Mesalamine.

Generic Asacol is also available in the market as Mesalamine, Pentasa, Lialda.

The manufacturer of Asacol® is Procter & Gamble Pharmaceuticals Inc.