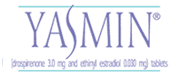 Yasmin (Generic)
Generic Yasmin is one of the most preferred female birth-control medications today. Yasmin pills are used to prevent pregnancy. The active components of Generic Yasmin are drospirenone and ethinyl estradiol, the both are female hormones. The medication is capable of causing changes in the cervical and uterine lining: it prevents sperm from reaching the uterus and inhibits a fertilized egg from attaching to the uterus.

Generic names of Yasmin also include Drospirenone and Ethinyl Estradiol, Yaz, Gianvi, Loryna, Syeda.

*Yasmin® is manufactured by Berlex Laboratories.