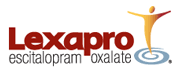 Lexapro (Generic)
Lexapro (Generic) is a trusted antidepressant belonging to the class of selective serotonin reuptake inhibitors. The medication contains escitalopram, the FDA-approved substance capable of treating various mood disorders, including major depressive disorder, generalized anxiety disorder, social anxiety disorder, agoraphobia, seasonal affective disorder, panic attacks, and obsessive-compulsive disorder in both adults and adolescents. Change your life for the better today with generic Lexapro!

Generic names of Lexapro also include Cipralex, Escitalopram, Lexaprin, Esertia, and Seroplex.

* Lexapro® is a produced by Forest Pharmaceuticals.