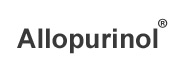 Allopurinol (Generic)
Allopurinol (generic) is used for treating kidney stones or gout and high uric acid levels in patients treated from cancer. Gout and kidney stones may be caused by buildup of uric acid; Allopurinol reduces its production. Other indications include congestive heart failure, cardiothoracic surgery, leishmaniasis, mania (bipolar I) associated with hyperuricemia, high risk percutaneous transluminal angioplasty, reactive perforating collangenosis, calcium oxalate calculi with hyperuricosuria.

The medication is to be taken with a full glass of water, on a daily basis. The dosage depends on the indications and patient's age.

Generic Allopurinol is also available in the market as Aloprim, Lopurin, Zyloprim.

The manufacturer of Allopurinol® is Major Pharmaceuticals.