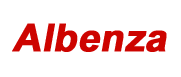 Albenza (Generic)
Albenza is a brand name of Albendazole, a synthetic anthelmintic drug of the benzimidazole class. Generic version of Albenza is also available. It is used to treat certain tapeworm infections, due to its ability to kill sensitive parasites. Among indications for treatment with generic Albenza are hydatid disease and neurocysticercosis, diseases caused by larval forms of the pork tapeworm and the dog tapeworm.

The medication comes in the form of tablets (including chewable tabs) and has to be taken orally with food. The dosage varies depending on the parasite type and the weight of the patient.

Generic Albenza is also available in the market as Albendazole.

The manufacturer of Albenza® is Amedra Pharmaceuticals.