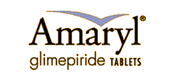 Amaryl (Generic)
Amaryl contains glimepiride drug as an active ingredient. It is used in treatment of type 2 diabetes mellitus. It stimulates insulin release, thus lowering blood glucose. Amaryl is intended for use in adults; it is not recommended in children because of its specific side effects. The medication comes in the form of 1/2/4 mg tablets.

Amaryl should be taken orally with the 1st meal of the day. The recommended starting dose is 1-2 mg daily and 1 mg for patients at increased hypoglycemia risk. Further increase of the dose can be prescribed based on the glycemic response of the patient; 8 mg is a maximal recommended dose a day.

Generic Amaryl is also available in the market as Glimepiride, Glimy, Glimpid.

Sanofi-Aventis is the owner of Amaryl® registered trademark.