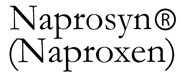 Naprosyn (Generic)
Naprosyn is sold under numerous brand names all over the world. It belongs to the group of NSAID treatments fighting inflammations of all types. Naprosyn (also known as Naproxen) reduces hormones that activate pains and inflammations in the body of a patient. It is perfect for those who suffer from arthritis, bursitis, spondylitis and menstrual pains. Naprosyn will help you get rid of acute pains very fast. However, the treatment has side effects including heart issues and chest pains. Besides, some people are allergic to Naprosyn: please, consult your physician for more relevant information.

Naprosyn can be marketed as Aleve, Midol Extended Relief, Flanax Pain Reliever and Naproxen.

*Naprosyn® is a registered trademark of Roche Pharmaceuticals.