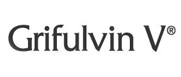 Grifulvin V (Generic)
Generic Grifulvin V is an antifungal antibiotic characterized by higher efficiency compared with other medications of its kind. It is used to treat fungoid diseases of skin, scalp, feet (like athlete's foot), and nails, including such frequent condition as ringworm. The active ingredient of Generic Grifulvin V is one of the most prescribed medications for dermatomycosis, scald head, microsporia, and ringworm of the nails.

Generic Grifulvin may be marketed under the names: Griseofulvin, Fulvicin (P/G / U/F), Gris-PEG.

Grifulvin V® is a trademark belonging to Janssen Pharmaceuticals.