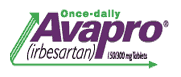 Avapro (Generic)
Avapro (generic) contains irbesartan as an active ingredient. It is an angiotensin II receptor antagonist used for treating hypertension. It lowers blood pressure and improves blood flow due to blocking certain chemicals and keeping blood vessels from narrowing. Antihypertensive action lowers the risk of severe (including fatal) cardiovascular events.

The drug is also indicated for treating diabetic nephropathy, kidney problems caused by type 2 diabetes.

Generic Avapro is available in 75/150/300 mg tablets for oral administration; they can be taken with or without food, once a day.

Generic Avapro is also available in the market as: Irbesartan, Xarb, Karvea, Aprovel.

The manufacturer of Avapro® is Sanofi-Aventis.