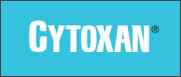 Cytoxan (Generic)
Generic Cytoxan is used to treat different types of cancer including ovarian cancer, breast cancer lung cancer, lymphogranulomatosis, chronic lymphocytic leukemia, acute lymphoblastic leukemia. The preparation is taken orally; it is usually prescribed in a dose of 1-5 mg per kg of body weight per day. The most common side effects are: nausea, vomiting, hematopoiesis, baldness, pain in muscles and bones, headache, toxic hepatitis, cystitis.

Generic Cytoxan is also marketed as: Endoxan, Neosar, Procytox, Cytophosphane.

*Generic Cytoxan® is a registered trade mark of Bristol-Myers Squibb Company.