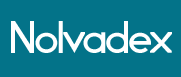 Nolvadex (Generic)
Nolvadex (tamoxifen) is a non-steroidal estrogen antagonist. It connects to estrogen receptors in peripheral and tumor tissues. This way the medication eliminates an influence of estrogen, a female hormone produced in the body and stimulating the growth of cancer cells. Nolvadex slows down the cancer process preventing breast cancer. The medication may be used alone or in combination with other antitumor drugs.

Some of the most popular analogs of Nolvadex are Apo-Tamox and Tamizam.

The drug is offered by AstraZeneca.