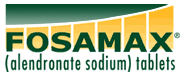 Fosamax (Generic)
Fosamax (Alendronate) is a remarkable osteoporosis medication to prevent and treat the disease. Bone mass decrease is typical for osteoporosis; consequently, there is a high risk of fractures, particularly of the spine, hips and wrists. This condition can be developed in both men and women, but it is especially common in women after menopause, when the bone resorption exceeds its formation, which leads to bone loss. Daily intake of alendronate causes progressive increase in bone mass and mineral density.

Fosamax may also be sold as Alendronic acid.

*Fosamax is a brand product of Merck.