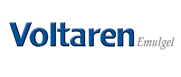 Voltaren Emulgel (Generic)
Generic Voltaren Emulgel is an analgesic and anti-inflammatory drug. The medication contains diclofenac helping the patient get rid of inflammatory processes, head and tooth ache and pain syndrome in soft tissues, joints, muscles, ligaments, back, hands, etc. Voltaren not only lessens and even eliminates rheumatic and traumatic pain and swelling, but also normalizes the temperature of the human body. It is also used to relax and warm aching body areas.

Voltaren Emulgel is manufactured in form of gel or cream for topical use by the Novartis trademark.