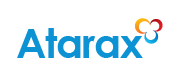 Atarax (Generic)
Atarax is one of the names of a hydroxyzine drug with sedative and antihistamine action. It is used for treating skin allergies (contact dermatitis, hives), and also anxiety and tension. As a sedative medicine, it reduces the central nervous system's activity. As an antihistamine drug, it reduces activity of natural histamine in the body, thus relieving allergic symptoms such as hives and itching. Another indication is general anesthesia (during and after).

Generic Atarax comes in the form of tablets or syrup with a dose-measuring spoon or cup. The dosage depends on the indications and patient's age.

Generic Atarax is also available in the market as Hydroxyzine and Vistaril.

The manufacturer of Atarax® is Pfizer.