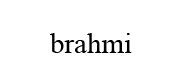 Brahmi
Brahmi is a herbal medicine, used for diminishing stress-induced anxiety. This plant was actively used in Indian medicine as a tonic for mental activity, improving the hearing and nervous system. Presented in the plant, special trace elements (apennines, alkaloids and glycosides) have a powerful stimulating effect on the brain cells. Brahmi is recommended for people engaged in active mental activity: students, researchers, analysts, etc. The drug gently removes signs of anxiety and fear.

Brahmi also marketed as: Ginkgo Biloba, Brahami Centella.

* Brahmi® is a registered trade mark of Himalaya.