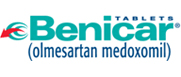 Benicar (Generic)
Benicar (generic) is a combination medication with two active ingredients: olmesartan medoxomil and hydrochlorothiazide. Olmesartan is an angiotensin II receptor antagonist that keeps blood vessels from narrowing, thus improving blood flow and lowering blood pressure. Hydrochlorothiazide is a thiazide diuretic that prevents absorption of excess salt by the body, thus preventing fluid retention. Due to these effects Benicar is used for maintenance treatment of hypertension (high blood pressure). It is approved for use in adults and children from 6 years old.

Generic Benicar is supplied as film-coated tabs.

Generic Benicar is also available in the market as Olmesartan.

The manufacturer of Benicar® is Daiichi Sankyo, Inc.