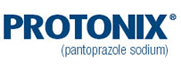 Protonix (Generic)
Customers also know Protonix (generic) as Pantoprazole – a number one PPI drug on the market. It controls the activity of acid in the stomach. It is one of the most effective drugs that works best for patients taking it on the regular basis. Protonix can lower the secretion level to 85-95% in one week. Protonix is one of the most efficient treatments for healing and maintaining the erosive impact of the acid in the stomach.

Protonix can be found on the market as Pantecta, Protium, Pantorc, Pantoloc, Inipomp, Pantopan, and Pantoprazole.

*Protonix® is a registered trademark of Wyeth-Ayerst Laboratories.