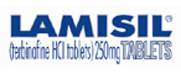 Lamisil (Generic)
Lamisil (Generic), with its active substance terbinafine, is aimed to deliver you from any fungal infection like ringworm, tinea versicolour, tinea cruris, and tinea pedis. The tablets of generic Lamisil are also effective against fungal nail infections. This essential medicine works by damaging the fungal cell membranes – it just causes the fungal cell lysis (death)! Start experiencing a happier life free of fungus on your skin by ordering generic Lamisil today!

Generic names of Lamisil include Zabel, Terbinafine, Terbisil, Terbinafine hydrochloride.

* Lamisil® is manufactured by Novartis Pharmaceuticals.