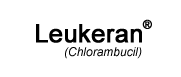 Leukeran (Generic)
Leukeran is a chemotherapy medication useful for treating chronic lymphocytic leukemia. This product belongs to the group of anti-neoplastic medicines. Leukeran is well tolerated by the majority of patients with Hodgkin lymphoma, trophoblastic neoplasms and polycythemia vera. It also can be prescribed as an immunosuppressive agent for different autoimmune and inflammatory conditions.

At the market, Leukeran is also sold as Lesacin, Leroxacin, Levofloxacine, Levokacin.

Leukeran® is a trademark belonging to GSK.