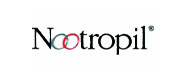 Nootropil (Generic)
Generic Nootropil with an active agent piracetam is used to control abnormal muscle jerking and twitching in the legs and arms caused by problematic issues in nervous or brain systems. Its effect is based on altering the process of brain supply of neurochemicals and improving the supply of oxygen. In order to avoid the side effects, it is necessary to follow the doctor's instructions of taking the medicine.

At the market, generic Nootropil is also sold as Breinox, Lucetam, Dinagen, and Piracetam.

Nootropil is produced by UCB Pharmaceuticals.