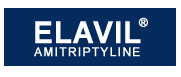 Elavil (Generic)
Generic Elavil–an active ingredient amitriptyline–is an antidepressant of the tricyclic group. Its antidepressant effect is combined with pronounced sedative, antianxiety, and, in certain doses, stimulatory effects. For the present, it is the most trusted and safe antidepressant of the class used for the treatment of endogenous and other types of depression, anxiety disorder, insomnia, phobic disorders, and other conditions.

Elavil may be also marketed as: Amitriptyline, Tryptizol, Laroxyl, Sarotex

Elavil® is a trademark, owned by AstraZeneca Pharmaceuticals.