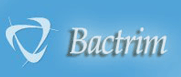 Bactrim (Generic)
Bactrim is a combination medication with two active components - sulfamethoxazole and trimethoprim. These are synthetic antibiotic drugs that are effective against different types of bacterial infection. Among indications are urinary tract infections, ear infections, traveler's diarrhea, pneumocystis jiroveci pneumonia, shigellosis, acute exacerbations of chronic bronchitis, acute otitis media.

Generic Bactrim is supplied in tablets for oral administration with 80 (or 160) mg trimethoprim and 400 (or 800) mg sulfamethoxazole. Use of the medication in children younger than 2 months of age is contraindicated.

Generic Bactrim is also available in the market as Sulfamethoxazole/Trimethoprim, Bactrigamma, Septra, Cotrim.

The manufacturer of Bactrim® is Mutual Pharmaceutical Company, Inc.