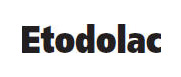 Etodolac (Generic)
Generic Etodolac is a medication of nonsteroidal anti-inflammatory class (NSAID) with action based on prostaglandin synthesis inhibition. It is characterized by pronounced anti-inflammatory, analgesic, and antifebrile effects. Etodolac is used for the treatment of rheumatic disease and arthritis, spondylitis, arthrosis, osteoarthrosis, and other moderate painful conditions of different origin. It is one of the most effective and safe drugs in these cases.

Etodolac is also marketed as: Lodine or Lodine XL.

Etodolac® is a trademark, owned by ESI Lederle Generics.