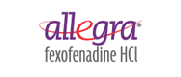 Allegra® (Brand)
Allegra® is a branded medication produced by Sanofi-Aventis pharmaceutical company. Fexofenadine hydrochloride is its active ingredient. It is intended to relieve various symptoms accompanying seasonal allergies (such as allergic rhinitis) and chronic idiopathic urticarial: itchy/running nose, sneezing, itchy palate/throat, red/watery eyes, uncomplicated skin manifestations, and so on. This antihistamine drug is considered to be effective and does not cause drowsiness.

Allegra® is available in the form of orally administrated pills with 30mg/120mg/180mg of fexofenadine.

Allegra is also available under the names of Fexofenadine, Allegra ODT.

The owner of Allegra® trademark is Sanofi-Aventis.