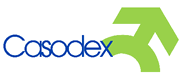 Casodex (Generic)
Casodex (Generic) is an effective preparation for prostate cancer treatment. It should be used simultaneously with aditional drugs. Casodex is produced in the form of tablets, it can be used only by men; the preparation is not prescribed for women and children. Generic Casodex is well tolerated by most patients and it rarely causes side effects. It was sound that daily administration of the drug (150 mg) at the early stage of disease significantly reduces the risk of metastases.

Generic Casodex also marketed as: Casudex, Kalumid, and Calutide.

*Casodex ® is a registered trade mark of AstraZeneca.