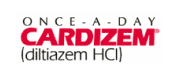 Cardizem (Generic)
Generic Cardizem (diltiazem hydrochloride) is used for the treatment of cardiac angina, coronary vessels disease, hypertension (high blood pressure), elevated heart rate and abnormal rhythms. Diltiazem Hydrochloride is an active ingredient of Cardizem. The drug is available in the form of capsules and can be taken once a day. This drug can help get more healthy, enabling the patient to exercise and postpone heart surgery.

Generic Cardizem also marketed as: Diltiazem, Adizem, Anginyl.

*Cardizem ® is a registered trade mark of Biovail Laboratories International.