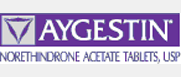 Aygestin (Generic)
Aygestin (norethindrone) is an artificial form of the female hormone progestin. It can be taken as a birth control pill, separately or in a combination with estrogen. Aygestin may be prescribed for treatment of menstrual disorders caused by hormonal imbalance: secondary amenorrhea, polymenorrhea, endometriosis and dysfunctional uterine bleeding.

Generic Aygestin is also known as Norethindrone and Norethisterone.

*Aygestin is a product of Duramed Pharmaceuticals Inc.