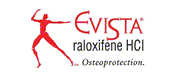 Evista (Generic)
Evista (Raloxifene) is a medicine used to prevent osteoporosis in women after menopause. An active agent, raloxifene, is a selective modulator of estrogen receptors. It reduces bone resorption and helps to normalize the levels of calcium in the body by reducing, in the first place, the loss of calcium through the urine. Evista also reduces swelling and tenderness of the breasts and known to reduce the total cholesterol levels and LDL.

Evista may also be sold as: Optruma, Raloxifene.

*Evista is a brand product of Eli-Lilly and Co.