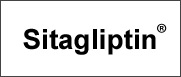 Sitagliptin (Generic)
Sitagliptin (generic) is quite a powerful drug fighting type 2 diabetes. It works well for people who have no possibility to fully control their diet and to have regular exercises. Sitagliptin can be used on its own or in a combination with other antidiabetic drugs. It is a DPP-4 inhibitor that is able to increase the level of insulin and keep it stable, which leads to decreasing the amount of sugar in blood. You should surely consult your physician before you have made your mind to take Sitagliptin on a regular basis, because it has side effects.

Sitagliptin is also marketed as Januvia.

Sitagliptin® was created and developed by Merck & Co.