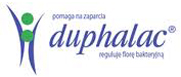 Duphalac (Generic)
Generic Duphalac is a mild laxative with an active ingredient called lactulose. It stimulates intestinal peristalsis and contributes to restoring normal intestinal digestion in people, suffering from constipation. The medication changes stool consistency, softening it and helping regular bowel movements. It also inhibits Salmonella bacteria growth and lowers blood ammonia level. Order generic Duphalac at the best price now and get rid of all the unpleasant and disturbing feelings associated with such a digestive problem as constipation.

Generic Duphalac is marketed as: Duphalac, Regulose, Lactulose, Lactugal, Regulose.

Duphalac® is a trademark owned by Solvay.