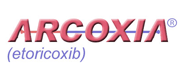 Arcoxia (Generic)
Arcoxia (Etoricoxib) is a revolutionary drug for a safe and effective treatment of pain syndrome in patients with osteoarthritis and rheumatoid arthritis. Arcoxia effectively reduces inflammation and pain, while not leading to side effects and complications of the digestive tract and blood function. It allows reducing pain quickly and enjoying a long-lasting analgesic effect for 24 hours. Arcoxia is a top medication for acute and chronic pain.

Arcoxia is known under the following brand-names as: Algix, Etoricoxib, Nucoxia, Tauxib.

*Arcoxia® is a product of Merck Sharp & Dhome.