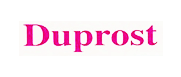 Duprost (Brand)
Duprost is a medication containing dutasteride as an active ingredient. It acts to suppress dihydrotestosterone that causes prostate disorders and hair loss. Duprost is used as an effective treatment of prostate adenoma and is able to prevent the need for surgery for this condition and ease the passage of urine. It is also helpful for androgenetic alopecia in men. Improve your reproductive health now and order Duprost at a reasonable price!

Duprost may be marketed as: Avodart, Dutasteride, Tridesun, Avidart, Avolve, and Duagen.

Duprost® is an equivalent of Avodart®, owned by GSK.