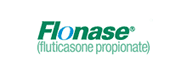 Flonase Spray (Generic)
Generic Flonase is a fluticasone-based symptomatic treatment of allergic (including seasonal allergies) and non-allergic rhinitis, manufactured in the form of nasal spray. It belongs to the group of corticosteroids. Flonase provides an effective solution for such symptoms as nasal blockage, runny nose, swelling, sneezing, and all the related inconveniences by preventing the release of certain inflammation triggers in the body. As for now, it is one of the most popular and prescribed medication to relieve nasal allergic reactions.

Flonase® is a trademark belonging to GlaxoSmithKline.