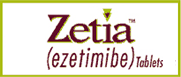 Zetia (Generic)
Zetia (ezetimibe) is a representative of the new class of lipid-lowering drugs used to lower the cholesterol level and other fat compounds when the patient changes his lifestyle keeping a diet, losing weight and exercising. The drug is also prescribed if Statin treatment is not enough. Zetia, as an adjuvant therapy, helps reduce a risk of such heart diseases, as angina, apoplectic attacks and heart attacks preventing them.

Zetia has the following analogs: Ezedoc, Ezetrol, Ezetimibe.

The Zetia trademark is presented by the Merck firm.