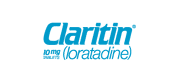 Claritin (Generic)
Claritin (generic) is one of the most popular preparations against different types of allergy for adults and kids. It is used to treat allergic rhinitis and skin allergic diseases. Generic Claritin is effective against such symptoms as eye irritation, sneezing, breathing problems (especially in the mornings), conjunctivitis, and nasal congestion. It has a quick and prolonged anti-allergic effect. Claritin starts acting 30 minutes after taking the drug; the half-life is about 50-60 minutes.

Generic Claritin also marketed as: Loratadine, Alavert.

* Claritin® is a registered trade mark of Schering-Plough.